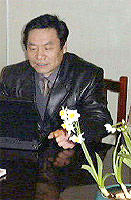 中国江苏省靖江市金牛手套厂,创建于1992年元月,位于长江之滨三角洲,江阴长江大桥西侧,交通十分方便。
   系本厂积聚多年的滑雪号手套成功的经验"重合同,守信誉"树立"质量第一"的管理信念,设备齐全,技术能力雄厚,竭诚满足国内外客户的需求。
   本厂于2005年为扩大生产规模,在山东省济宁市嘉祥县投资新建了分公司,公司名:山东省嘉祥县金牛缝纫制品有限公司,现年生产手套、围巾、帽子等15万打套。产品销售日本,欧美三十多个国家。
   谨此,竭诚欢迎海内外客商前来我厂洽谈合作。

  CHINA JIANGSU PROVINCE CITY JIN NIU GLOVE PLANT was founded in January 1992,located at Yangtze Delta, the west side of Jiangyin Yangtze River Bridge, so it has transport facilities.   
   The plant has accumulated rich experience on skiing gloves production.With the aim of "Contracts-Honoring,Trustworthy",and the management "Policy of Quality First",complete set of equipment,strong technical force,we cordially satisfy the requirements of customers.   
   The factory covers an area of 3500 square meters,with over 250 staff. The annual output pfgloves amounts to 100000 dozen and the products are sold over thirty countries such as Japan,Europe adn US ,etc.   
   We sincerely welcome customers, home and abroad, to negotiate collaboration with us.